Weddings
The celebration of love in the Jewish tradition is evident in the beauty of our wedding ceremonies. Traditional ceremonies are usually done under a chuppah (wedding canopy) and include a ketubah (wedding contract) signing, a bedeken (veiling of the bride) and the wedding itself.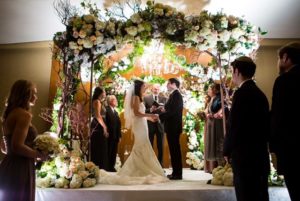 Rabbi Gordy has performed dozens of weddings in more than 10 states, the District of Columbia, and even foreign countries. Each wedding ceremony is customized to reflect the personalities and preferences of the couple. As a pluralistic rabbi, Gordy has performed interfaith and gaymarriages, as well as traditional ones. He is also willing to officiate on the Sabbath (though ketubah signing would have to be done at a different time).
Pre-marital counseling (usually 3 sessions) is required, and is included in the wedding package, as is help in selecting a ketubah (wedding contract) and reviewing it to see that it's filled in correctly. The total package is generally $1000, not including expenses (travel, lodging, etc.) or unusual add-ons. References are available.