B'nai Mitzvah
Becoming  b'nai mitzvah (children of the commandments) typically occurs when a young person turns 13 (though for girls it can be younger) and signifies that this young person is now responsible for their own moral behavior (sins) in the eyes of God. Often, people claim that the bar or bat mitzvah means the young person is now seen as an "adult" in the community, which isn't exactly so.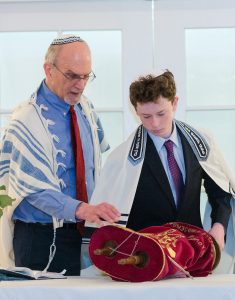 Rather, achieving this milestone allows privileges that are not permitted prior to the bar/bat mitzvah such as counting in a minyan (minimum quorum for prayer), leading a service, reading from the Torah, and serving as a witness. The ceremony is an opportunity for the family and community to celebrate the youngster's achievements.
During the service, the b'nai mitzvah students may lead any part of or the full service, read from the Torah, and/or recite a haftarah (a portion from the prophets). The minimum requirement is being called to receive an aliyah to the Torah. This can happen any time the Torah is read which includes, Shabbat mornings or afternoons, Monday or Thursday mornings, Rosh Chodesh (a new month), or any of the holidays. Typically however, they are held in conjunction with  Saturday morning Shabbat services.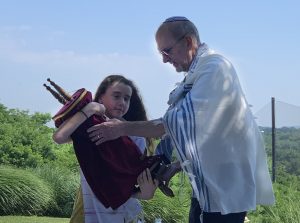 Rabbi Gordy prepares students and arranges a meaningful service. Fees, as well as the time frame needed to prepare, depend on the student's experience and educational background and how frequent individual tutoring is required, but usually range from $500 – $1500.  Each tutoring session is generally half an hour and can occur in person or over Skype or other streaming platform. Actual arranging and performance of the ceremony is not included in that price range.